Commercial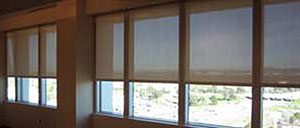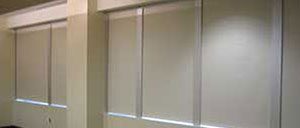 High Return on Investment (ROI)
Window coverings are one of the smallest dollar items in an office tenant improvement, but they are one of the most seen and touched parts of an office and significantly affect the comfort level of office occupants. And their timely and smooth installation right at the end of a project is always critical. Cheap, marginally functional window coverings are a large irritant to office occupants, and they reflect poorly on the building owner and the TI contractor.
Protecting Your Reputation
Your Company's reputation among its clients is for excellent product and application knowledge and competitive pricing as well as early project planning and coordination which lead to on-time completion and excellent finish and function. Architects and building owners appreciate Golden Image for complete submittals which confirm all window covering product and mounting details for their project as well as any required electrical or lighting interface details.
Best Practices for Projects
We use proven Best Practice processes to ensure projects are highest quality, on time, within budget, and our clients are satisfied.
Budgeting: Our intimate knowledge of products and installation techniques allows us to accurately budget window covering options for your project even while it is in a preliminary design stage. We are well versed in the LEEDS system and how window coverings fit in.
Complete proposals: We review plans and specifications carefully and often walk the building to insure complete accuracy of our proposals.
Detailed submittals: Our submittals completely define the product details, color options, the location of all products, mounting details and electrical interfaces if required. We firm up any grey areas in the plans or specifications.
Related Trade Coordination: We meet with related trades to define the interfaces between their work and ours, so everything goes smoothly and there are no surprises at the end of the project. Our up-front work with electricians and framers as well as AV and lighting contractors eliminates coordination problems at crunch time.
Installation: Golden Image has always used its own employees to install its jobs rather than subcontracting the installation as many of our competitors do. With our own employees installing, we have better quality and schedule control, better trained installers and you are protected by our workers compensation and liability insurance.
Completion: We pride ourselves in performing to meet your schedule.
Service: Many of our competitors disappear after completion of the project. Golden Image will continue to provide any necessary service during the warranty period and long after.
Bonding: On larger projects Golden Image has the surety track record to be able to provide required bid and performance bonds.
Residential
Golden Image is a quick time supplier of vertical blinds, faux wood blinds and mini blinds for apartments. Blinds are available for pick-up, delivery or installation by our installers and we are happy to measure your windows if you are not comfortable doing so.